Welcome to Bronson Vet Services
Your dedicated veterinarians committed to servicing the community by providing top rated care and excellent service.
Branch County's 2022 Official Community Choice Best Veterinarian
Welcome to Bronson Vet Services, your local veterinarians in Coldwater
Your dedicated veterinarian committed to servicing our community by providing top rated care and excellent service. Branch County's 2022 Official Community choice Best Veterinarian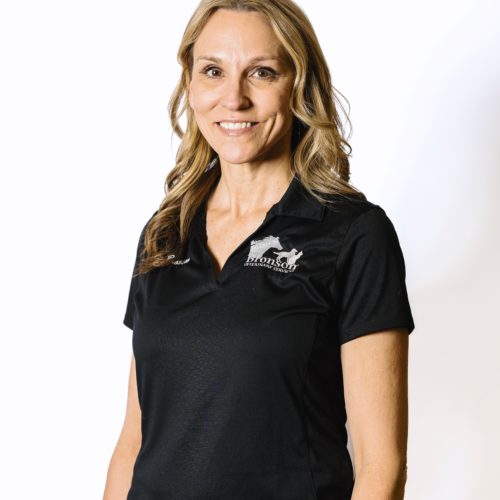 Growing up as a young girl, Dr. Bronson always knew she wanted to be a veterinarian. Being a farm kid, there was always an injured or sick animal that needed to be cared for. Her interest in horses also started at a very early age and she finally got her first pony, Smarty, as a birthday present from her parents when she was 8 years old. From there, her love for horses continued to grow as did the number of horses on her parent's farm. By the time she graduated from High School, she was heavy into showing on the Quarter Horse circuit as well as breeding and raising Quarter Horses.
Following graduation from Michigan State University College of Veterinary Medicine in 2000, Dr. Bronson completed a one year internship at Equine Specialty Hospital in Ohio. During her internship, she divided her time between the local race tracks doing sports medicine and assisting in surgery at the hospital.
Following her internship, Dr. Bronson moved back to Michigan and worked as an associate veterinarian for Shiery Animal Clinic. This experience sparked her interest in reproductive medicine, both small animal and equine.
In 2005, Dr. Bronson established Bronson Veterinary Services as an ambulatory only service after having her first child. This quickly developed into the purchase of property with a pole barn that was converted into a mixed animal hospital. In 2015, the new clinic was built and is now a full service equine/small animal hospital.
Over the years, Dr. Bronson's interest in reproductive medicine and surgery has continued to grow. She has received specialized training with the industry's top leaders in embryo transfer and transvaginal aspiration for ICSI (intracytoplasmic sperm injection). She has developed a small recipient mare herd and enjoys all stages of the reproductive process.
Dr. Bronson enjoys all aspects of veterinary medicine and especially cherishes the human animal bond. Any way she can improve that connection gives her a sense of peace and satisfaction. She also enjoys the science of veterinary medicine and understanding the why and how.
In her spare time, she enjoys life on the farm with her husband, TJ, and their two children, Aden and Ava. There is never a dull moment between caring for their variety of farm animals (dogs, cats, cows, and horses) and attending Aden and Ava's sporting events. There are always plenty of cattle and horse shows that the kids are involved in as well to make life interesting.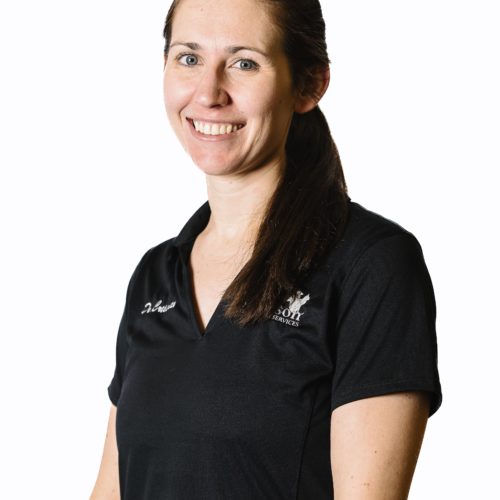 Dr. Stacie Cressman is one of our talented Dr's who specializes in small animals. She attended and graduated from Sturgis High School where she was a star athlete in tennis, and golf. After high school she pursued pharmaceutical research and attended Huntington University where she received her Bachelors in Chemistry. She then discovered her path led in a different direction, and changed her focus to veterinary medicine and went on to receive her Doctorate of Veterinary Medicine from Michigan State University in 2018. She has been an associate veterinarian at Bronson Vet Services since May of 2018. In her free time she enjoys cuddling up on the couch and watching the newest TV drama of the Bachelor. She also loves spending time with husband Austin, son Garrett, and newest addition, daughter Emmy. On the 4 legged side of the family, she has little rascal Jack, and Rudy (actually 3 legged rescue). Along with 2 feline friends, Fat Wobbs and Bear. Her favorite hobbies include kayaking, boating, swimming in the lake, and enjoying the outdoors with her kids.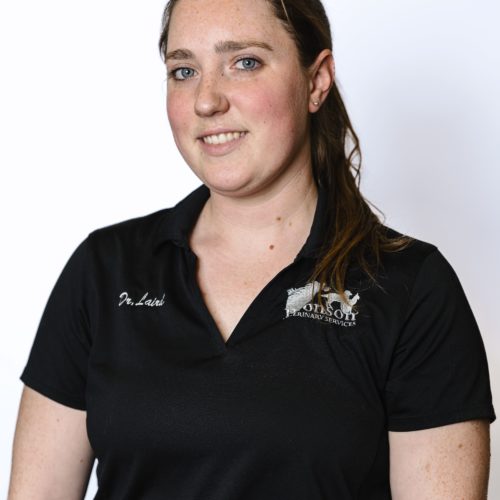 Dr. Kara is an Associate Veterinarian. She grew up at Cozy Cole Farm showing Morgan horses and working with Standardbred race horses. She has wanted to be a veterinarian all her life and has always had a love of science.
Dr Kara initially went to University of Michigan Flint where she completed her 4 year molecular biology and biochemistry undergrad. During her undergrad, she worked at the Humane Society in Flint, MI and began to enjoy shelter medicine. She then decided to pursue her passion for animal medicine and attended Michigan State University College of Veterinary Medicine, graduating in 2020. While attending MSU,she had the pleasure of working at MSU's Large Animal Clinic.
Upon graduation in 2020, Dr. Kara began her career as a veterinarian at Bronson Veterinary Services. She currently treats small animal and equine patients. Here she continues to pursue her passion and aspires to be the voice for patients that cannot speak. She wants to help clients tell their pets how much they love them by providing both preventative and critical care.
When she is not seeing patients, Dr/ Kara likes to spend time with her animals, go horseback riding, hiking or being on the lake in the summer. She has multiple animals including 2 horses, 2 donkeys, 2 goats, 2 cats, a chinchilla and a fish.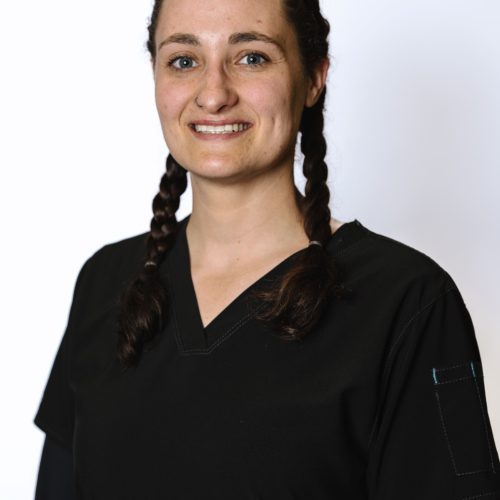 Megan is one of our longest standing Veterinary Technicians, specializing as our Reproduction Coordinator. She has been with Bronson Veterinary Services since 2017, graduating from Paw Paw High School in 2011. She then attended Michigan State University and received her Bachelors in Animal Science. She worked at a dairy farm during her externship, and participated in the study abroad program that allowed her to travel to South Africa for 6 weeks. She has shown horses for over 24 years, going from a lead-liner to being the Miss Michigan State Rodeo Queen from 2015-2016. Megan resides in Sturgis with her outdoor loving, future farmer of America son Rhett, and their dogs Kinze, Massey, and Haggie, 2 cats, and chickens. In her spare time she enjoys spending time with her family and friends.
Nicole is one of our wonderful Veterinary Technicians that graduated from the University of Findlay in 2011. She has been in the veterinary field going on 9 years and brings a wonderful personality and skill set to our staff. She graduated with a BS in Animal Science/Pre-Vet and AA in Equine Studies. Nicole is currently finishing up her associates in Veterinary Technology through Purdue University. She enjoys fishing, hiking, and horseback riding, as well as spending quality time with her 2 children, Elizabeth (8 yrs) and Austin (4 yrs). In addition to her family she also cares for a horse, mini donkey, 2 dogs, and 5 cats.
Kelsey is one of our hard working Veterinary Technicians from the International Business College of Fort Wayne, IN. Kelsey joined our team in 2020 and continues to be an appreciated asset to our team. She enjoys spending time with her fiance and dogs. She has two golden retrievers named Douglas and Kevin. In her spare time, she enjoys watching movies and spending time with friends and family.
Kirsten is also one of our helpful assistants who is currently attending Penn Foster for her veterinary technician degree. Her hobbies include hunting, fishing, as well as putting her knowledge and skill set towards educating the younger generation in her role as a 4-H leader for the Burr Oak 4-H group of St. Joe County. She is happily engaged to fiance Jac Murphy and her four legged family consists of 2 cats, and 2 dogs.
Chase is one of our helpful assistants. He graduated from Coldwater High School and enjoys movies, basketball, tattoos, and golfing. He is married to his wife of 8 years Joylyn and they share 3 handsome boys together; Trae, Jett, and Luka. Chase also has a fond love for the french bulldog breed. He has 6 of his own as well as years of breeding experience.
Emily, one of our veterinary assistants, graduated from Bronson Jr/Sr High School in 2019. Before joining our team at Bronson Vet she worked at a daycare with a love for children. She is an FFA alumni and attended Kellogg Community College. She also attended a two year agricultural program through Michigan State University. She currently resides in Leonidas, MI with boyfriend Ryan and their 2 dogs Duke and Annie. As well as their 2 cats, Willie and Bugz. In her spare time she prefers being outdoors, hunting, fishing, riding four wheelers and spending time with friends.
Kasey is our amazing barn assistant. She has been with us since September of 2022. She came to us as a jack of all trades. You name it she's done it! She brings so much positive energy, knowledge and talent to our clinic. She also brings with her 17 years of experience working at the Steuben Community Humane Society. When she's not working, she enjoys time with friends and kayaking. Along her side she has her equally hard-working partner Dave of 18 years, 4 rescue dogs, and a crazy cat named Oliver (not so hard working).
Kate is one of three of our friendly Receptionists. She graduated from Mendon High School in 2009, attended Michigan State University studying Zoology, and is currently attending KVCC pursuing her degree in Psychology, set to graduate this summer. She is an avid runner, with an interest in health and fitness, who also enjoys hiking, swimming, travel, and anything in the sun. She still resides outside of Mendon with her 2 mini me's Paisley, and Payton, her 4 legged running partner Achilles, their 4 cats, and fish. In her spare time she enjoys spending time with her family and friends, and has a special love for food.
Kimber is one of our fun loving Veterinary Receptionists. She graduated from International Business College- Fort Wayne, IN with her Associates in Veterinary Technology in 2018. She worked at one other clinic before joining our team in 2021. Kimber is also expanding her knowledge to include practice management. Her favorite part of work is meeting new clients and their companions as well as constantly learning. When not at work, she enjoys reading, swimming, traveling and hiking with her boyfriend, John, and three dogs Coco, Shadow, and Kota.
Tara is Bronson Veterinary Services office manager, receptionist, as well as assisting as a technician when needed. She does it all! She is also one of the original staff members joining Bronson Vet from the beginning 17 years ago. Tara graduated from The International Business College in 2010. She enjoys spending time with her husband, and their 2 daughters. She is a Quincy High School graduate and a Branch County 4-H and Branch Area Careers Center FFA Alumni with 14 years of show experience in beef, dairy, pigs and sheep. She was awarded the 2005 Livestock Sweepstakes Small Animal Award at the Branch County Fair. She enjoys time with her family and helping the next generation of youth through her role as a 4-H leader. You can also find her at the campgrounds, or boating during the summer seasons.
Years in Practice: 2017
Interests: Sleeping, Snoring, Food, Sweaters
Ozzie is a 7 year old Persian, that has been with the Bronson Vet family since May of 2017. He loves attention and spending time with our clients. He can usually be found enjoying the sunshine or in the back observing from his box.